Supervised play-room for kids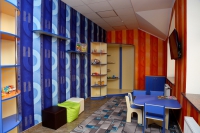 One of the services that we can offer for your convenience and comfort is a children's playroom. It is of course understood that parents sometimes need to be able to rest or to talk privately without the children being around all the time. Let us come to your rescue with the help of our professionally trained nursery staff, who know exactly how to keep your kids ocñupied.
It is our pleasure to give them the opportunity to communicate and play with others, with whom they can make friends while your family is in our care, allowing you to relax and take advantage of the rest of our facilities, or simply to enjoy a meal or one another without being disturbed or interrupted. We will do our best to give you all the best environment for your happiness and satisfaction during your stay in any way that we can – YOU are important to us!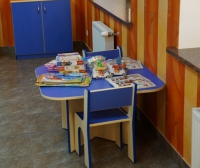 They will, of course enjoy building pyramids or Lego®, tell fairy tales and do play-acting, as well as all sorts of other games with them according to their age. Rest assured, that your children will be in good hands with caring and experienced educators.

We are sure that your children will enjoy the experience, as much as you will the appreciate the peace that you will get.