Fitness Center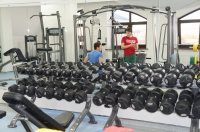 If you always strive to be in great shape, or are already actively engaged in fitness training, but don't know where to start - the fitness centre in the hotel and restaurant complex «BeSt» is just what you were looking for! In order to join in, you just need to contact the administrator of the reception in the fitness centre, who will tell you in detail about the opening times and arrange a first visit to issue a subscription card. You will be introduced to the comfortable locker rooms, where you can also, of course, take a shower after your workout. Don't worry if for some reason you forgot to bring a towel or soap etc - just contact the reception and we will supply you with your needs. We are also be able to supply you with your own personal choice of cosmetics that are not part of the normal items that the hotel supplies to clients, at your own expense, of course.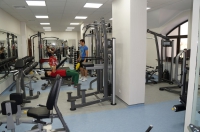 In the fitness centre, hotel and restaurant complex «BeSt» you will find all the equipment necessary for effective workouts aimed at achieving the best results. The equipment in the fitness centre is designed to benefit both professional bodybuilders and
novices alike. Functional layout, air conditioning, well thought-out lighting - all go towards making your sport enjoyable and effective. You can work out alone in the gym or attend group sessions or even choose to have a personal trainer who will guide you through your own individual program of training.


The warm, friendly atmosphere in our fitness centre will help you take a fresh look at fitness and become a real fan of a healthy lifestyle. Our Cardio-Room is specially designed for effective training of the cardiovascular system, the Gym is fully outfitted with modern training appliances, in keeping with the latest trends in sports. Functionally, the room is divided into several zones to help
you to control the intensity of your workout and the muscle-groups that you wish to train, to make you fit, strong and healthy.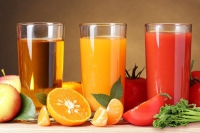 The fitness centre, hotel and restaurant complex «BeSt» would not be complete without one mandatory item - a fresh juice bar. You can treat yourself to a fruit-cocktail, sports and herbal teas,
which will give your body only the healthiest, most natural and beneficial vitamin and mineral boost. For those who need physical rehabilitation services, we can also offer this under expert supervision. We also don't need to convince you of the benefits of a healing and relaxing massage, which is, of course, also available to you in our complex.

We even have Tennis-courts for fans of that sport, too!. The staff of the hotel-restaurant complex «BeSt» will, naturally, also take care of the clients' cars which are guarded around the clock for your convenience and safety.


Our fitness centre provides excellent opportunities for relaxation after a hard day, or is, alternatively, just the thing to start your day with, giving you a boost of energy and good spirits to carry you through all the day's challenges.


Áðîíþéòå íîìåðè îíëàéí!